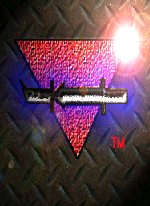 Edwin's Top 10 Game Review Page
1.Front Mission 3 - Leave it to Square to make a really cool, turn - based Strategy Game that I actually LOVE!!! I'm not a big fan of Playstation Strategy Games and RPG's as they take too long to play, and I usually favor shooting games (especially those with robots and spaceships, as you can see from most of the titles on my list), which give me a fun outlet for releasing my pent - up frustrations. But I can say now that I have finally found a strategy game to add to my growing PS software library. Cooler - than - liquid - nitrogen mecha designs and graphics, quality cut scenes, an engaging storyline and the ability to customize your robots or "wanzers" as the game calls them are among the things I enjoy about this game. Adhering faithfully to the FF Tactics engine, this game stands out among the latest batch of strategy titles currently available for the PS. Just one question: How long do I have to wait for the sequel?!!

2.Einhander - Squaresoft rules!!! How could I not like this gem of a game, with its polygonal masterpieces, awesome bosses, cool lighting effects, and a bitchin' soundtrack. It used to be my all - time favorite until another Square game took the top spot (see above). A great game for shooting fanatics everywhere!!!

3.Tron Bonne - Capcom releases another game in the "Megaman Legends" vein. I like the idea that you can bring along up to eight "servbots" with you on your various missions. The servbots are all quite different from each other, albeit their identical appearances. You have to bring out the unique skills that each of them have, and that's not a mean feat considering there are 40 of them(!!!). Another cool "robot game which makes you think and gives you a variety of game genres in one disc. It's also very funny too. Great game!!!

4.Real Robots Final Attack - I just LOVE a game that lets you play as a variety of "famous" anime robots (including three gundam units in the basic game), and takes you to a fully three - dimensional arena ala "Virtual On". BAnpresto did a really good job with the mecha renders, and each 'bot has its own unique Speed, Defense, and Weapon levels. It's a cool game (For me anyway) for excorcising your "bad side". Not recommended for friends who want to play the split - screen versus mode.

5.Raystorm - Taito has a reputation for making cool shooters. That's the reason why I like this game. Very nice, polygonal ships, a variety of robotic and non - robotic enemies, and nice special attacks that literally light up the screen add to the game's "bells and whistles". It doesn't hurt that the game also has a load of continues for when you keep screwing up.

6.Gundam Battlemaster 2 - Here's the 2-D fighting game that makes number 6 on my list. "Battlemaster 2" stays true to the motion and weapon characteristics of the Mobile Suits that we all know and love (although I don't know most of the pilots in the game!). Nice super moves and combos are aplenty, and some of the bosses are massive (PSYCHO MK III)!!! Another game for letting off steam.

7.Silent Bomber - "Bomberman on steriods, and sporting an attitude". That's the basic concept of this impressive game. Another game loaded with gorgeous polygon graphics, fast pacing and nigh - impossible to kill bosses. I especially like the continue screen where the protagonist says "Is this...the end?!!" while drifting, waiting for you to restart or end the game. It's also got real speech and a cool premise, as well as a useful tutorial for wannabe gamers like me.

8.Gundam: Char's Counterattack - Another great shooter from Bandai. You duke it out using various MS (usually belonging to either Amuro or Char) in a full - on 3D combat zone. One feature I like is the ability to target specific parts of your opponent's MS (i.e., head, arm etc.). What more can I say? The Gundam factor is another compelling reason for me to put this in my list.

9.Omega Boost - Packing a real - time cinema with cool opening sequence, Omega Boost easily caught my curiosity. Suffice it to say that I was not disappointed by the actual game. Another (you guessed it) enjoyable 3D shooter with class and a good story. Just one hitch: The enemies (especially bosses) can be very hard to kill, and you spend hours trying to lock - on and damage them. Thankfully, the game has a tutorial for you to practice dodging and weaving in and out of obstacles. Great graphics don't hurt either.

10.R - Type Delta - I wasn't able to play the original R Type, but I probably would have enjoyed it, as this game, which is its descendant, gives me a continuous blast - fest of incredible polygon worlds and enemies, great aplha - channel effects, and numerous stages. Love the various weapons and options available for the ship. All things considered, this game rocks because it lives up to the hype of being a cool shooter and makes no pretentions about being anything else.