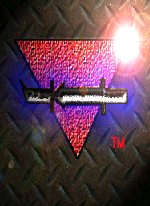 Paul Chris' Top 10 Game Review Page
1111

1.Silent Hill - Of course, the PS fans must be aware of what's hot; and of course reign of survival horror. Silent Hill doesn't just give you head - bursting puzzles, but for serious players, the storyline will also twist your head. Brace yourself and feel the horror of this game which you won't forget.

2. Fear Effect - For all Resident Evil fans, here's one for ya. Eidos boosted the stakes all the way up to make this game, because of its realistic background and switchable anime characters. The game is not very easy and is packed full of energy. Fear Effect invites iron - hearted, patient players to put themselves right in the middle of the action.

3. Metal Gear Solid - Every gaming magazine sayeth to all : "Metal Gear Solid will never fall", and here it is again bombing my number 3 spot. The story and gameplay will put you in a suspense thriller when Solid Snake begins his mission. Even the story is hard to understand, but becomes much clearer later on in the game. And because of its two discs, you'll enjoy a really cool game.

4. Final Fantasy 8 - The Final Fantasy series stays put at number 4 n my list. Created by the best composers and story tellers, The gameplay and graphics improvements take a decidedly more realistic quality, with a deep story and numerous side quests, and a cardgame to boot.THe game's soundtrack "Eyes on Me" is one of the best soundtracks that I've heard from any of the FF games. Very appropriate for the game's "love story". Yay!

5. Gran Turismo 2 - We love these kinds of games. The Memory Card battles let you and your friends enjoy the game, plus the trading of cars for a friend really makes this game a very cool simulation. The Gran Turismo license also helps the realistic aspect of the game. Tune up and race you way to victory! For car race maniacs only!!!

6.Thousand Arms - The first kind of "dating RPG" for the Playstation is here, and it's just plain fun and enjoyable. Real - time anime cut scenes and its characters' cool and liflike facial expressions give it just enough momentum to hit no.6 for now. Its voice over also gives the game a unique touch.

7. Countdown Vampires - Hell of a show!!! and it's scary as hell too!!! Another mysterious horror game hits the PS. Bandai follows in the footsteps of both Capcom and Konami and gives us a gory world filled withy zombies and vampires. The story also catches me, with its gothic element. Never play it in the dark alone!!!

8. Monster Rancher 2 - Monsters rule!!! And no, it's not the zombies or vampires I'm talking about, but cutesy monster pets. Very complex gameplay and story, good graphics, the option to battle other people's monsters, and the "tamagotchi" feel of the game makes it fun for any type of gamer.

9. G Generation Zero - This is a must for Gundam fans, with amny of your favorite Mobile Suits making an appearance in this title, but the true heart of the game is its Memory Card Battle mode which can decide once and for all whose game saves kick the most ass. Enjoy playing it with your friends!

10. WWF Smackdown - Ho train! WWF fans should not miss this title. The first (for me, anyway) realistic wrestling game complete with signature moves and taunts, it's guaranteed to bring the World Wrestling Federation to your house! Enjoy electrifying moves like the people's elbow, that is, if you smell what he's cookin'!